About EVACO – We offer unique expertise and exclusive partnerships
EVACO is a leading provider of user-driven business analytics solutions in the D-A-CH region and specialises in the implementation of modern analytics systems and intelligent search and artificial intelligence technologies. Our mission is to turn complex data into knowledge – knowledge that will enable you to make easier, faster and better decisions.
Benefit from our many years of expertise and exclusive cooperation with selected international partners.
Our holistic, modular and thus flexible approach empowers companies of all kinds to use business analytics – from dashboard projects for business users to advanced analytics with artificial intelligence and machine learning.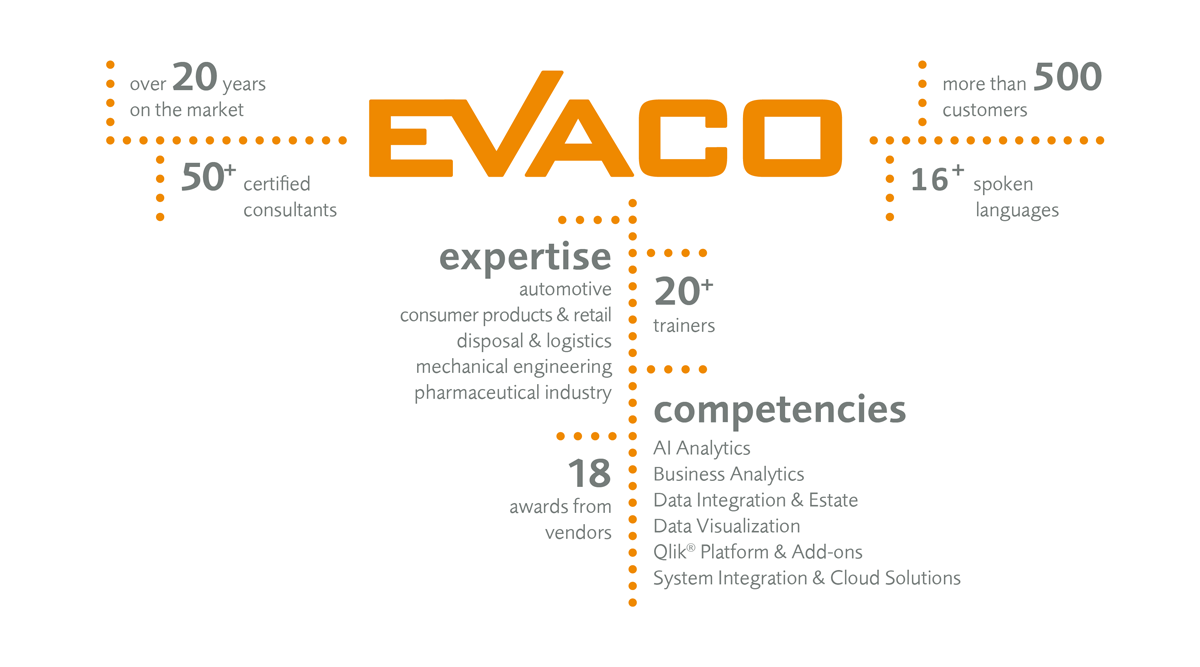 Since 2002 we support BI projects – Germany-wide
Our portfolio includes select partnerships with leading BI analytics software vendors such as Board, DataRobot, NodeGraph, PlatformManager, Qlik®, ThoughtSpot, TimeXtender, and ZenOptics, and coordinated add-ons, extensions, and other solutions.
Our success in numbers
49.500
Project days
184
conducted trainings
480
Training participants

We are a Qlik® Elite Solution Provider
As a Qlik® Elite Solution Provider, EVACO not only acts as a consultancy for the Qlik® end-to-end data management platform, but also as an expert provider of business analytics solutions that cover all aspects of KPI-based corporate management – from analytics and planning to reporting and the increasingly important issue of end-to-end connectivity.
Our portfolio includes selected partnerships with leading providers such as BOARD, DataRobot, NodeGraph, PlatformManager, Qlik®, ThoughtSpot and TimeXtender, alongside matching add-ons, extensions and industry solutions.
Our high standards of quality ensure the security of your investment
In order to safeguard your investments through projects that are successful in the long term, we rely on continuous training and exams. All our consultants have been trained and certified for the products in which they specialise. As a company, we have been exceeding our customers' highest expectations for many years, which has also earned us several awards.
In 2017, we received the German Brand Award for our transparent, modern communication and our goal of always sharing our knowledge.
EVACO expertise & accreditations
We regularly take part in programmes run by manufacturers to accredit our expertise or specific solutions that we offer. Partners & Awards
This is what our employees say

"The cooperation and cohesion with experienced colleagues at EVACO is exemplary. Without the old hands I would never have built up skills so quickly. The good cooperation between many years of experience and new out-of-the-box approaches has led to the best results, at least in my projects."
– November 2022
"Very personal and fair interaction with staff and supervisors. Activities outside of work and cool events."
– November 2022
"Incredibly social, kind, professional and pleasant."
– September 2022
"Accommodating, Flexible, Confidence in MA"
– November 2021
View Kununu profile
Have you heard the news yet?
EVACO News always keeps you up to date.
Find out everything about new BI topics, products, partners and events on our german news page.
read News